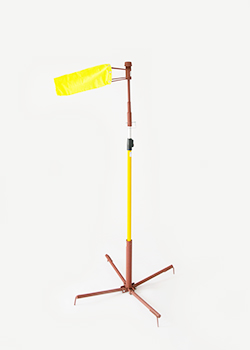 Panama Enterprises provides top-quality portable windsock frames. We serve multiple industries in Alberta and other parts of the world.
For over three decades, we have been the trusted supplier in the market. We offer our products at competitive prices, all backed by fast and friendly service.
How Do Portable Windsock Frames Work?
Our portable windsock frames are simple yet effective devices used to measure wind direction and speed.
They consist of a durable frame and a windsock made of weather-resistant materials.
The frame is designed to securely hold the windsock in place and allow it to rotate based on wind movement.
Our portable windsock frame can be quickly assembled by following a straightforward process. The frame components are easily connected, and the windsock is attached to the frame.
Once assembled, the windsock will respond to the wind, indicating its direction and an estimate of the wind speed.
Our 5 ½" portable windsock frames provide a portable solution across different industries.
Their quick setup time enables efficient assessment of wind direction and speed. These frames can enhance safety and operational efficiency in various scenarios.
Contact us today for more information about our 5 ½" portable windsock frames.
Industries Served
Our portable windsock frames are useful across a range of industries. Some of the industries that benefit from these portable windsock frames include:
Traffic Accidents: Helicopters may need to land for medical evacuation or emergency response. These portable windsock frames provide wind information for safe and accurate landing procedures.
Helicopter Landings: Helicopter pilots rely on windsocks to assess wind conditions before landing. Portable windsock frames enable them to have wind direction and speed information available. This ensures safer and more efficient helicopter landings.
Chemical Spills: During unexpected chemical spills, it is crucial to monitor wind patterns. This helps to prevent the spread of hazardous materials. Portable windsock frames offer a quick and reliable method for assessing wind direction. This can aid in containment efforts, and ensure the safety of response teams.
Vacuum Trucks: Portable windsock frames are useful on vacuum trucks in various industries. These can include waste management and environmental services. These frames help operators optimize their operations and ensure the safety of personnel.
Well Servicing: Portable windsock frames also find application in servicing well locations. They offer a convenient solution for assessing wind conditions during well operations. This allows personnel to make informed decisions and maintain a safe working environment.
Construction: Portable windsock frames are valuable tools for construction sites. They assist workers in evaluating wind conditions during various tasks.
Firefighting: Firefighters use wind indications to assess the direction and spread of wildfires. Portable windsock frames provide information to aid in firefighting efforts. They also help to ensure the safety of personnel.
Get in touch for more information about our 5 ½" portable windsock frames.
Portable Frame Specifications
Polyester, assorted colors
Double-seamed
Grommets and hog ring attachments
Metal frame
5 1/2" diameter
Can extend from 4' to 8'