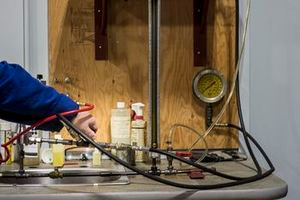 Even though chemical pumps are built according to a robust design, the nature of their work will result in gradual wear and tear that can lead to breakdowns and emergency repairs.
Some common issues associated with chemical pumps include loss of chemical residue, excess chemicals, leaks, failure to pump, and refusal to prime. 
While routine maintenance can certainly help to prolong the lifespan of a chemical pump and prevent issues, at some point, your chemical pump will require repair.
Professional Service and Repair Work
To ensure that your chemical pump works at optimal capacity, it's important to have a professional technician replace worn parts and rebuild and upgrade the system if necessary.
Panama Enterprises offers repair services to ensure that you get the most out of your pump and to help save you money in the long run!
Important Warranty and Repair Information
Panama Enterprises Inc. is the sole Canadian Distributor for Morgan Products. Therefore, all warranty claims by customers must be sent to our facility for repair.
Our team will dismantle the pump and replace the required parts before pressure testing the pump. The fixed pump is then shipped back to the customer.
This process also applies to timers and relays.
Leave It To the Experts!
For more information about our professional chemical pump repair services, feel free to contact us.