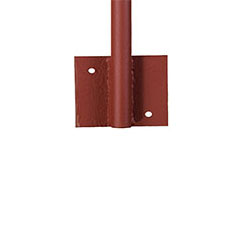 Wall mounts have two fastening points and are best used to attach items to the side of buildings without overhangs.
Wall mounts can be fastened to wooden poles as well and they can also be welded to extensions from 2' to 8' in length!
Please keep in mind the size of sock and frame you are using. This will guide you on the length of the extension you should use to prevent the sock from getting caught on the building in low wind.
All of Panama's wall mounts are made of durable carbon steel for extra durability and feature a 4" x 4" plate to mount flat and stable to many surfaces.
Specs
4 X 4 flat plate
Carbon steel