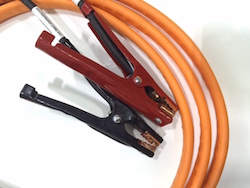 Whether you are trying to start your car or operate a piece of equipment, a dead battery can put a damper on your day. Panama Enterprises is proud to offer booster cables to avoid these stressful situations!
Packaged in a reusable canvas bag, our booster cables are kept together with heat shrink tubing, meaning that they will never tangle, are easy to use, and are easy to store in your vehicle.
The booster cables are 15' to 30'; in length and made out of #4-gauge wire at 400 amps. The clamps are elongated and also are made at 400 amps. The heavy-duty welding cable is 600V and coated in neoprene.
Here are some tips for using our high-quality booster cables:
Always make sure both vehicles are in park and the donor vehicle is turned off.
Never let the clamp heads touch each other.
Connect the red (positive) clamp to the positive posts of both vehicles.
Connect the black (negative) clamp to the negative battery post of the donor car and onto the bare metal of the dead car.
Wear safety glasses to protect your eyes in the event of a spark.
You never know when you will need a boost! Contact us today about getting a booster cable kit to keep in your vehicle.