Mini Buggy Whip / Quad Flags
Mini Buggy Whip / Quad Flags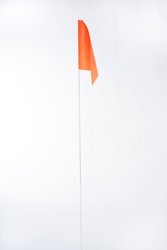 Safety on any job site can be achieved by increasing visibility, and Panama Enterprises carries quad flags to help you do just that!
Quad flags are bright orange flags that can be used to mark a variety of things, including:
Culverts
Road edges
Trucks
Quads
Quad flags ensure that dangerous conditions and moving vehicles are easy to see, especially in the early morning and evenings.
Troubleshooting the Fiberglass Rod
It's not entirely uncommon for the fiberglass rod to break at the bolt connections - but this can be easily fixed!
Undo the bolt and lock washer before punching the fiberglass rod through the bolt. This will remove the piece stuck inside.
Insert the rod into the bolt hole and reinstall and tighten the lock washer and nut. This allows you to fix it on the go!
Specs
6' height
Attached bolt for mounting
Bright Orange