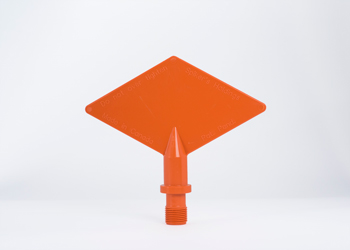 Panama Enterprises is your #1 source for Screw Pump Markers!We are proud to have purchased the rights to produce these invaluable accessories as an addition to our line - you won't find these handy little markers anywhere else!
Screw pump markers are used as highly visible indicators of screw pump rotation. They are made of solid plastic in a bright safety orange colour throughout - no colour chipping or fading.
Screw pump markers are also useful for preventing dirt and corrosion from harming the coupling to ensure smooth operation and reduce the risk of production interruption.
Installation is simple - screw the flag into the existing coupling using hand power (no wrenches, please!) and watch from the road as the market indicates pump rotation.
Contact us for more information on how you can save time and money!
Screw Pump Marker Specs:
Total height: 8 inches
Width (point to point): 9 inches
7/8" Threaded connection
Bright orange plastic