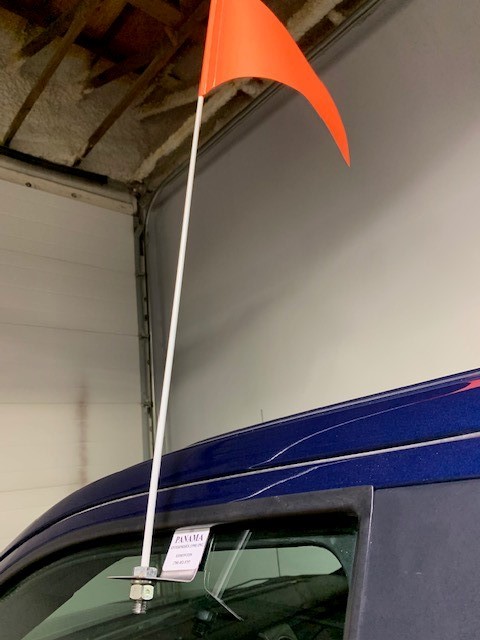 At your job sites, visibility is an absolute must! Panama Enterprises carries bright orange window-mounted flags that can be attached to company vehicles and used around your job site.
These safety flags increase visibility and are also easy to remove and store!
Offer your crew a higher level of safety and alertness when it comes to the presence of vehicles, structures, or equipment.
Our heavy-duty warning flags are made of high-quality materials and designed to withstand day-to-day wear and tear.
They also feature a stainless steel bracket to ensure the flag is secure as well as neoprene cushioning to protect your vehicle's window from damage.
Take a look at our variety of products to service safety and operational needs in the oil and gas industry!
Specs
3' height
Stainless steel bracket for mounting to window
neoprene cushion to protect window
Bright orange
If the fibreglass rod breaks at the bolt connections:
You can fix your window mount whip on the go!
If the fiberglass rod breaks at the bolt connections, simply undo the bolt and the lock water and punch the fiberglass rod through the bolt in order to remove the piece stuck inside.
Recycle the rod by inserting it into the bolt hole. Reinstall the lock washer and nut, then tighten.